Governor Palin's latest Facebook post:
Commander-in-Chief's Definition of "Honorable Service" Includes Anti-American Actions While in Uniform; He Just Destroyed Troop Morale
The Obama administration tells America this soldier served "with honor and distinction." (http://www.weeklystandard.com/blogs/susan-rice-bergdahl-served-honor-and-distinction_794066.html)
No, Mr. President, a soldier expressing horrid anti-American beliefs – even boldly putting them in writing and unabashedly firing off his messages (http://nypost.com/2014/05/31/the-bizarre-tale-of-americas-last-known-pow/) while in uniform, just three days before he left his unit on foot – is not "honorable service." Unless that is your standard.
Please use your White House Rose Garden to praise the truly honorable service of our good U.S. troops who were killed in their search for Sgt. Bergdahl (http://www.thedailybeast.com/articles/2014/06/02/we-lost-soldiers-in-the-hunt-for-bergdahl-a-guy-who-walked-off-in-the-dead-of-night.html). Praise the soldiers who fought with everything they had to defeat Islamic terrorists, those whom you just freed from prison. Our men gave all. Our surviving combat vets will forever live with the effects of the missions they willingly engaged in to protect you, our country, and certainly their brothers and sisters who are proud to wear the uniform.
We Lost Soldiers in the Hunt for Bergdahl, a Guy Who Walked Off in the Dead of Night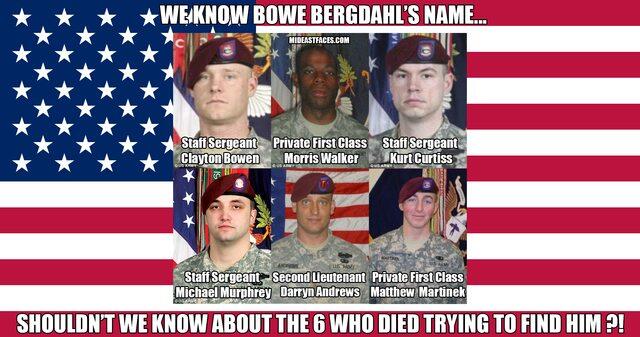 The 6 U.S. Soldiers Who Died Searching For Bowe Bergdahl
You blew it again, Barack Obama, by negotiating away any leverage against the bad guys as these bad guys – Osama Bin Laden's partners in evil crime – joyfully celebrate their "win" in the deal you sealed.
– Sarah Palin
And Governor Palin certainly isn't the only one who feels this way…
 Video: Fmr Soldier Who Served With Bergdahl: 'He's At Best a Deserter, At Worst a Traitor'
Update: And it has now come to light that Bergdahl left behind a note:
WASHINGTON — Sometime after midnight on June 30, 2009, Pfc. Bowe Bergdahl left behind a note in his tent saying he had become disillusioned with the Army, did not support the American mission in Afghanistan and was leaving to start a new life. He slipped off the remote military outpost in Paktika Province on the border with Pakistan and took with him a soft backpack, water, knives, a notebook and writing materials, but left behind his body armor and weapons — startling, given the hostile environment around his outpost.

That account, provided by a former senior military officer briefed on the investigation into the private's disappearance, is part of a more complicated picture emerging of the capture of a soldier whose five years as a Taliban prisoner influenced high-level diplomatic negotiations, brought in foreign governments, and ended with him whisked away on a helicopter by American commandos.
Related:
Video: [FLASHBACK] Bowe Bergdahl's dad gives his son a traditional Muslim greeting
Judge Jeanine: Obama violated the law by not notifying Congress about the release of the Gitmo 5
War Is Peace, Citizens Are The Enemy
Allen West – Bergdahl's father's deleted tweet a smoking gun?
Video: Sununu Compares Bergdahl Health To Benghazi YouTube Video
American Captive Exchanged for Five Most Dangerous Taliban Commanders in U.S. Custody
AWOL Traitor Traded for Taliban Terrorists: "In the name of Allah, the most gracious, the most merciful,'' AWOL soldier's dad said in Arabic
Sgt. Bowe Bergdahl exchanged for top 5 Taliban commanders at Gitmo
SpForces Retrieve PFC Bowe Bergdahl from Taliban – Exchanged for 5 Gitmo Prisoners
Bowe Bergdahl Promoted to Sgt in Absentia? Father Wants All Gitmos Released "Ameen!"
Chuck Hagel Implies Taliban not Terrorists
TEN Terrorists for One Traitor: The Prisoner Release You Didn't Hear About