By Marion Algier – AskMarion
TPNN: "And then came the trash talking from the Republican Establishment Cartel, comprised of Mitt Romney, Marco Rubio, and Jeb Bush. The trio smash-mouthed Trump's brutally honest, if not tactful, comments…"
TPNN: July 5, 2015 By Colleen Conley
It's been a HELLA week for The Donald, after his controversial comments about Mexican illegal immigrants during an announcement for his Presidential campaign.
Macy's dumped his men's clothing line, Univision dropped The Miss USA Pageant – which he co-owns – from it's television line-up, and Mayor Bill de Blasio puffed that NYC will review all of Trump's contracts with the city.
But the brash billionaire barely lifted a bushy eye-brow. And then came the trash talking from the Republican Establishment Cartel, comprised of Mitt Romney, Marco Rubio, and Jeb Bush. The trio smash-mouthed Trump's brutally honest, if not tactful, comments about the enormous problem of illegal immigration in America, something which neither side of the aisle seems to want to address, despite Americans' desperate pleas to deal with the issue. NOW.
Of course, the Democrats want their votes, and the Republicans want to continue to provide corporations with cheap labor. This leaves taxpayers in the middle, necessarily having to bear the burden of the unsustainable costs of healthcare, education, entitlements, and crime -even possible terrorism- which comes along with the masses swarming over our porous southern border.
Romney was asked by a CNN reporter on Saturday "if Donald Trump's comments on Mexicans have hurt the Republican Party?"
"Yes, I think he made a severe error in saying what he did about Mexican-Americans," Romney replied. "And it's unfortunate."
Said "Gang of Eight" member and amnesty advocate Rubio,
"Trump's comments are not just offensive and inaccurate, but also divisive. Our next president needs to be someone who brings Americans together – not someone who continues to divide. Our broken immigration system is something that needs to be solved, and comments like this move us further from – not closer to – a solution. We need leaders who offer serious solutions to secure our border and fix our broken immigration system."
Ummm, yeah. So what have you been doing to solve the problem, Marco?
Last but not least, Jeb Bush remarked,
"I don't think he represents the Republican Party, and his views are way out of the mainstream of what Republicans think. No one suggests that we shouldn't control our borders – everybody has a belief that we should control our borders. But to make these extraordinarily ugly kind of comments is not reflective of the Republican Party. Trump is wrong on this."
So if "everybody has a belief we should control our borders," what is taking so long?
Regarding crime, the stats show Trump is right on. Ann Coulter's new book, Adios America, cites several examples of illegal aliens engaging in rapes and murders.
Trump fired back to the critics with a statement to Breitbart saying:
I am very proud to be fighting for a strong and secure border. This is a very important issue, which all the other candidates would have ignored had I not started this important discussion. I will fix the border — no one else knows where to begin.
Today, Jeb Bush once again proves that he is out of touch with the American people. He doesn't understand anything about the border or border security. In fact, Jeb believes illegal immigrants who break our laws when they cross our border come "out of love."
As everybody knows, I never said that all Mexicans crossing the border are rapists. Jeb is mischaracterizing my statements only to inflame. Our unsecured border is a national security threat.
None of this appears to be hurting Trump's poll numbers. Whatever one thinks of The Donald, I cannot help think of this little threesome when I hear Jeb, Mitt, and Marco welcoming everyone to Munchkinland….er, America
And his true conservative opponents agree with him or at least stand by his right to say what he thinks!!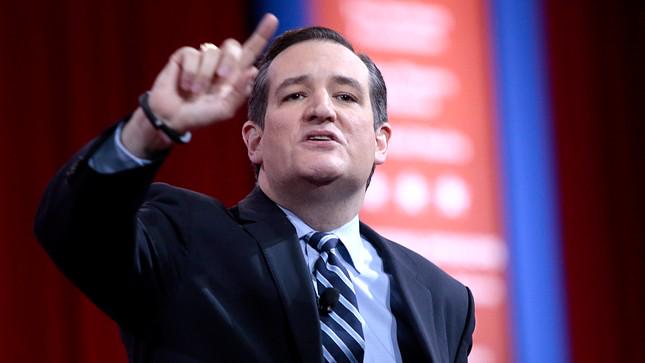 The Hill: Senator Ted Cruz (R-Texas) said on Sunday that he admires GOP presidential candidate Donald Trump for his outspokenness on immigration.
"I salute Donald Trump for focusing on the need to address illegal immigration," Cruz told host Chuck Todd on NBC's "Meet The Press." "I like Donald Trump. He is bold, he is brash."
"He has a colorful way of speaking, and it's not my way of speaking, but I salute him," the fellow Republican White House hopeful added.
Cruz also said on Sunday that he dislikes Republican infighting over issues of national importance.
"The favorite sport of some in Washington is to get Republicans to attack other Republicans," he said. "I am not going to engage in the media's game of throwing rocks at other Republicans. I'm not going to do it."
Trump sparked outrage in June 16 remarks about Mexico and border security.
"They're sending people who have a lot of problems," he said during his 2016 campaign launch. "They're bringing drugs. They're bringing crime. They're rapists. And some, I assume, are good people."
Cruz said on Sunday that he agrees with Trump's calls for improved border security.
"First, we secure the borders and then we can discuss what to do with all the people who are already here," he said of America's undocumented immigrant population.
"I am a passionate advocate for legal immigrants," added Cruz, whose father is a Cuban immigrant.
Cruz argued that the political establishment in both parties are against his position on immigration reform.
"The Washington cartel supports amnesty," he said. "The Washington cartel does not support securing our borders."
"Here's the sad truth: A lot of Republicans in the Washington cartel are in favor of amnesty, too."
Trump is being attacked by Republican RINO's and by the progressive media, which is controlled by the Left. Trump has reiterated, "I Have Lost a Lot, But I'm Right About Mexico!"
After Trump's announcement speech was made, there were numerous compliments and indeed, many rave "reviews"— there was very little criticism. It wasn't until a week after his announcement that people started to totally distort his very easy to understand words. "If there was something stated incorrectly, it would have been brought up immediately and with great enthusiasm", Trump said.

The issues I have addressed, and continue to address, are vital steps to Make America Great Again!

Additionally, I would be the best jobs President that God ever created.
The Democrats are dissing Rand Paul and Jeb Bush directly, but seemingly are disregarding Trump and Santorum. Don't be fooled, they are leaving the attacks of Trump, Santorum and others to their media operatives.
Hopefully America has finally learned that the people the media ruthlessly demonize are the ones the Democrats are afraid of. A perfect example of that is Sarah Palin. The Left and the people in the know, knew she was a threat, so they assigned their media lap dogs to destroyed her, beginning with the Katie Couric set up.
Related:
Occupy Democrats think a Mexican laborer destroys Trump's position. 14 dead Americans say otherwise.