Rep. Paul Ryan (R-WI) a chief proponent of Obamatrade, finally admitted on Wednesday that the process is highly secretive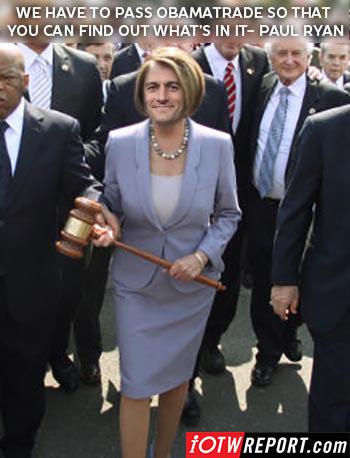 June 11, 2015 By Colleen Conley

TPNN: former Vice-Presidential candidate also made a mind-blowing gaffe in his House Rules Committee testimony akin to former Speaker Nancy Pelosi's infamous statement about Obamacare, "We have to pass the bill so that you can find out what is in it."
"It's declassified and made public once it's agreed to," Ryan said of Obamatrade during questioning from Republican opponents.
Say that again, Paul?
Ryan is trying to convince House Republicans to vote for Trade Promotion Authority (TPA) which would fast-track at least three highly secretive trade deals—specifically the Trans Pacific Partnership (TPP), the Trade in Services Agreement (TiSA), and the Transatlantic Trade and Investment Partnership (T-TIP)—and potentially more deals.
TiSA and T-TIP text are completely secretive and unavailable for even members of Congress to read while TPP text is available for members to review—although they need to go to a secret room inside the Capitol where only members of Congress and certain staffers high-level security clearances, who can only go when members are present, can read the bill.
The discussion during which Ryan made this gaffe came as Rep. Michael Burgess, who opposes Obamatrade, and Rules Committee chairman Rep. Pete Sessions, a supporter, were discussing the secrecy of the deal with him.
It came right after an incredible exchange where Ryan attempted a ploy to try to save immigration provisions contained within the Obamatrade package as a whole—specifically TiSA—that were exposed by Breitbart News earlier on Wednesday. Instead of addressing the problem, Ryan advanced a ruse designed to get more votes for his Obamatrade agenda but not stop the immigration provisions.
TPP will become public if TPA is agreed to, which is what Ryan was attempting to state when he made the big Pelosi-esque gaffe. But at that point, Congress will lose much of its ability to have oversight over and influence on the process, since TPP is, in many respects, already negotiated. It's 800 pages long, and on fast-track, Congress will only get an up-or-down vote and won't be able to offer amendments. The Senate vote threshold also drops down to a simple majority rather than normally having a 60-vote threshold, or in the case of treaties, a 67-vote threshold.
Does this feel vaguely like reliving the nightmare of the passing of Obamacare in 2010 – except this time the Republicans are in charge of Congress and are in cahoots with Obama?
Ryan insists that he is near to getting the votes to pass the bill (apparently to find out what's in it), but House Democrats are balking. How is it possible that the Republicans are willing to put their faith in a President who has circumvented their every move, lied, usurped power and is the very reason many of them were elected in the first place? To STOP him.
The answer is easy: follow the money.
H/T Breitbart
Tammy Bruce ‏@HeyTammyBruce 10h10 hours ago: TPP *not* a trade bill; it's a global governance bill
Obamatrade: Why the Secrecy Behind this New Global Governance "Treaty?"
The Trans-Pacific Partnership and the March Toward 'Global Governance' — #StopFastTrack
DEVIL'S PACT: Treasonous ObamaTrade Bill Sets Stage for Global Governance, Which is Why You Can't Read I
Jeff Sessions Issues Final 'Critical Alert': Obamatrade Just Like Amnesty, Obamacare