Governor Palin showed up on the red carpet for the SNL's 40th Anniversary Bash with Alec Baldwin and his wife Hilaria in tow. And who better to open NBC's SNL 40th anniversary red carpet special than Sarah Palin and Alec Baldwin, together again for the first time since they appeared in a 2008 cold open with Lorne Michaels standing between them?
By Gary P. Jackson – A Time For Choosing
Politics is downstream from pop culture. ~ Andrew Breitbart
Sarah Palin definitely gets pop culture. She has a transcendent pop culture factor. ~ Andrew Breitbart
On Sunday night Lorne Michaels and his team put on an excellent tribute to 40 years of Saturday Night Live. It was a well done stroll down memory lane, and the entire cast deserves accolades. That said, it's the little hockey mom from Wasilla, Alaska who grabbed all the headlines.
From the dress she wore on the red carpet [and who may have worn it before] to who she was seen with: Alec Baldwin, Al Sharpton, and Taylor Swift; to her skit with Jerry Seinfeld, tongues are wagging and the media is spinning.
First the dress! Governor Palin, who turned 51 a couple of days ago, was absolutely stunning in her white dress and trademark Kawasaki glasses.
What had lips flappin' though, is the dress is the same one Bristol Palin wore to the White House Correspondent's Dinner in 2011. (Wow what a crime. Wouldn't be great to have a president or first lady who was concerned with what is going on verse what he or she was wearing and someone who knew the value of a dollar?)
While the lamestream media was doing it's thing, haters gotta hate, Michelle Malkin and others noted women often share clothes with their daughters.
@michellemalkin @thegarance my daughter and I share clothes all of the time — it's kind of a thing out of here in flyover country
Michelle Malkin ✔ @michellemalkin – Follow

@SalenaZitoTrib Until my daughter had a 3-inch growth spurt, we did the same. Still share shoes, though! 🙂 @thegarance
In the real world, women wear dresses more than once! Shocker, I know.
This is where I feel obligated to remind readers that, as Governor, one of the first things Palin did was get rid of the Executive Chef at the Governor's Mansion in Juneau, looking to save the state money, while saying she didn't want to "spoil" her kids. She also famously put the jet Governor Murkowski bought on eBay. [later selling it through a broker, when eBay created the buzz, but no buyer] A jet that worked well when Murkowski wanted to go live it up with his cronies in Washington, but useless for traveling in most of Alaska, a state that has more pilots per-capita than any other state, but with most airfields considered primitive, at best, and unsuitable for jet use.
As most know, with Juneau, the state capitol, being so remote and inaccessible, much of the state's business is done in Anchorage, and there is a Governor's office there. When working out of Anchorage, Governor Palin would drive herself to work, a sixty mile trip, one way, in her own car, without a security detail. Governor Palin cut spending in her office by a cool million dollars annually vs. the previous two governors; Republican Frank Murkowski and democrat Tony Knowels. Borrowing Bristol's dress, rather than spending money on a new one, is typical of Governor Palin's fiscal ethics, and just another reason millions would support her if she runs for President.
Others have more to say about this:
Kurt Schlichter @KurtSchlichter – Follow

Apparently you are supposed to wear a dress once and never again. The things I learn from liberals. @michellemalkin @thegarance

11:38 PM – 15 Feb 2015 – 12 Retweets 13 favorites

Proves that Sarah Palin is a fiscal conservative and that she looks great . @Jesse_sDad @KurtSchlichter @michellemalkin @thegarance

Kurt Schlichter @KurtSchlichter

Apparently you are supposed to wear a dress once and never again. The things I learn from liberals. @michellemalkin @thegarance

Ask Dr. #Dude® PhD @Jesse_sDad – Follow

@KurtSchlichter Palin doesn't have to worry about ruining a dress like other liberals, like Monica Lewinsky @michellemalkin @thegarance

11:44 PM – 15 Feb 2015 – 8 Retweets 10 favorites
Ask Dr. #Dude® PhD @Jesse_sDad – Follow

@GideonGutenberg @KurtSchlichter @michellemalkin @thegarance and she has the self respect
And of course ….
Kurt Schlichter @KurtSchlichter
Apparently you are supposed to wear a dress once and never again. The things I learn from liberals. @michellemalkin @thegarance
Keep Calm and Carry @johnnyfriegas – Follow

@KurtSchlichter @michellemalkin @thegarance I'm old enough to remember when Liberals were crying about Sarah spending too much on clothes.
Me too!
Video: SNL40: Jerry Seinfeld Drops Brian Williams Jokes, Takes Question from Palin
You gotta love it when Sarah tells Baldwin she still loves his brother even more! As the story goes, Palin and Baldwin actually hit it off when she appeared on SNL in 2008. Like Lorne Michaels, Baldwin was said to be impressed with Palin, the person. Something most people who meet Palin, even those who disagree with her politics, have said.
One of the bits during the show included a question and answer session with Jerry Seinfeld. This is a bit that was popular on SNL years ago. Governor Palin stood up to ask a question, and Seinfeld pretended to confuse her with Tina Fey. Palin corrects Seinfeld, then asks how much Lorne [Michaels] would pay her to run for president in 2016, a nod to how much mileage Tina Fey got out of portraying the Governor. The whole bit is hilarious, Palin's part is at the end:
The media made a big deal about who the Governor sat with in the audience, Taylor Swift …. who was seated next to Steven Spielberg. Our friends at Twitchy said it best: 2 women who know how to Shake It Off
Then there was this:
James Power @jameskpower – Follow
And in the "Hell Has Frozen Over" department….
6:53 PM – 15 Feb 2015 – 22 Retweets 11 favorites
Of course, noted tax cheat and race bater Sharpton tweeted: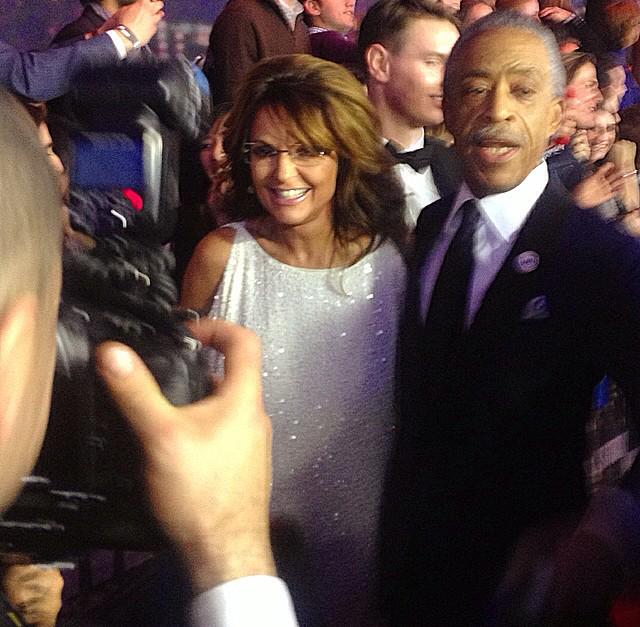 Reverend Al Sharpton ✔ @TheRevAl – Follow
On the red carpet with Sarah Palin at the 40th anniversary of Saturday Night Live #SNL40
5:55 PM – 15 Feb 2015 – 387 Retweets 263 favorites
…. and, while Governor Palin showed nothing but class, Rev Al tweeted this:

Reverend Al Sharpton ✔ @TheRevAl – Follow
I saw Sarah Palin on the red carpet and we talked to Xtra together. I urged her to run in 2016 and help the Democrats out.
7:24 PM – 15 Feb 2015 – 230 Retweets 262 favorites
Many responded to Sharpton's tweet by reminding the racist pig to pay his taxes! [He owes some $4.5 MILLION in back taxes -local, state, and federal]
I find it interesting how much heat a supposedly "irrelevant" woman can bring!
The great Andrew Breitbart often said politics were simply downstream of pop culture. He knew the only way to win the culture wars, as well as the political wars, was to be among them. To take part, instead of just set back and bitch about it. He also noted Governor Palin was one of the few that "got it," having high praise for her ability to connect with people using pop culture.
I think this tweet from Stephen Miller says it all:

Stephen Miller @redsteeze – Follow
Palin stood up for a skit in a room full of people that hate her. She's already more qualified than Hillary is. #SNL40
7:32 PM – 15 Feb 2015 – 235 Retweets 227 favorites
The entire show was great, but as usual, it's Sarah Palin who garnered the lion's share of the attention.
Ratings Gold: Governor Sarah Palin Joins SNL's 40Th Anniversary TV Special on Sunday