"Benghazi is no longer just a political issue. It's not just a partisan witch hunt. It goes to the heart of what our system of government is all about."  …KT McFarland
Video:  Glenn Beck: The Truth About Benghazi
The news today has been dominated by new revelations surrounding the attack on Benghazi. For the past week, TheBlaze has published a series of investigative stories detailing how exactly weapons supplied for Libyan rebels, with tacit support from the US government, ended up in the hands of the Muslim Brotherhood and Al-Qaeda. Then today, e-mails revealed an effort by the White House to link the attacks on the consulate in Benghazi to the Youtube video and not to a broader failure of the Obama administration's foreign policy. In his morning, Glenn discussed the latest news on Benghazi, as well as TheBlaze's investigation as part of For The Record: Zero Footprint.
Benghazi emails suggest White House aide involved in prepping Rice for 'video' explanation
Benghazi… Persistence Finally Brings the Disinfecting Sunshine and the Truth
BOOM! Tommy Vietor – Former NSA Spox – Admits Obama Never Made it to Situation Room During Benghazi Attack! (Video Below)
Why the White House is Desperate to Bury Benghazi
How Obama, Hillary wrecked Libya
Bret Baier Grills Snarky Little Regime Pajama Boy on Benghazi
Bob Beckel, the liberal co-host of "The Five," exploded with fury during a tense discussion about newly-released emails that reveal an apparent attempt by the White House to portray the 2012 Benghazi attacks as a protest gone awry to protect President Barack Obama's political career.

Beckel admitted that "someone, somewhere" likely agreed that it would be in the best interests of the president politically to change the Benghazi talking points and control the narrative. However, the liberal host then went completely off-topic, bringing up reports of Nigerian girls being forced to marry Islamic extremists and instances of "friendly fire."
When his fellow co-host, Eric Bolling, tried to get him back on topic, Beckel lost it.
"Let me finish!" Beckel said, pounding his fists on the table. "Let me finish by saying with what I think Hillary Clinton says — we know Islamic radicals killed these people, what difference does it make anymore?"
"Because they covered it up, Bob," Bolling shot back.
"So what?!" Beckel screamed. "Every administration covers things up."
Beckel also said "who cares" when asked if the Obama administration should be able to cover up Benghazi details just because it makes the president look bad. He also claimed that Americans are not still interested in finding out what happened in Benghazi.
Watch the explosive segment via Jim Hoft:
Video: Even Liberal Co-Host of The Five, Bob Beckel, Admits Benghazi Was a Cover Up Says "So What?"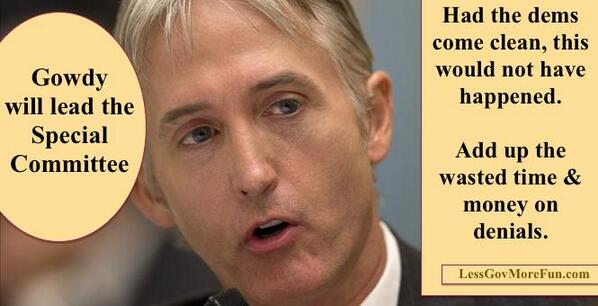 Speaker Boehner is finally pressured or shamed into appointing a special #Benghazi Committee with Trey Gowdy in Charge… good choice!
Emotional Intelligence Director Confirms Hillary Did Not Tell Truth to Benghazi Families
Is anyone really surprised?
"A mother (and soon to be grandmother) was willing to lie directly to the face of another mother who had just lost her son… (because of her doing)  Can you imagine the emotional GALL that took?? How cruel and callous can you be? Now, this same woman wants to lead our country. What woman would be able to endorse any woman who would do that? Talk about a "War on Women"?? Now the mother discovers her son was left to die for one reason: to protect Hillary and Barack's failed foreign policies Hillary hopes you're too stupid to figure it out. She hopes her gender will trump her lack of personal ethics and responsibility."  …John Bowler at Breitbart.com

Over the Caskets of Four Dead HEROS KILLARY LIED to Their Families for Politics… Think She Won't Lie to You?
"If this latest round of Benghazi scandal and cover-up information does not wake Americans up and if the American people are really foolish enough to elect Hillary Clinton in 2016… or ever, there is no hope of saving what once was the greatest country on Earth… not flawless, but the greatest and freest for the common man!  The ruling elite will have proved that the Great American Experiment was a failure that the common man does not have the ability to rule himself…" Marion Algier – AskMarion