Our weekly wrap… Sunday to Sunday… Please share! Ask Marion
Events of the Week… are in large part a continuation of the past two weeks Russia-Ukraine Still Escalating and U.S. News Coverage is Still Obsessed with the Missing Malaysian Plane?!? A diversion?  And if so… from what? The Republicans in the House are gearing up to attempt to support the Ukraine and to present an alternative to ObamaCare  And the Obama woman… Michelle, grandma Marian Robinson and the first daughters seem to be terrorizing China…

Sarah Palin Predicted Russia Invading the Ukraine If Obama Got Elected… and Democrats and skeptics including former DNC chairman Howard Dean and Noam Chomsky have apologized to her while Millennials and Independents are taking notice and taking a good look at Palin as the possible answer to Hillary the Democrats' 2016 carrot of 'electing the first female president' of the U.S.
Democrats and the liberal media love to mock conservatives like Sarah Palin as unintelligent or uninformed, but the worm has turned and history has proven Sarah Palin right over and over again. Do your homework and then help us spread this important message and fuel a conservative resurgence in 2014…  As Palin said in 2013 CPAC Speech, "We are not here to re-brand a party… We are here to rebuild a country!"
–>  See the New AD: "Sarah Palin Was Right" TV Ad by CCC PAC    <–
Lindsay Graham was caught on hot mic offering Kerry "help"– who needs Dems when you've got GOP traitors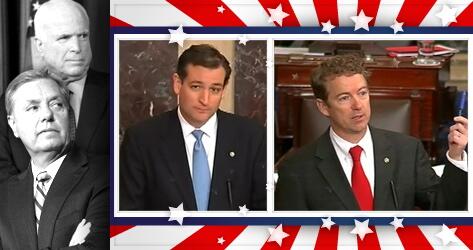 LEFT… Face of Yesterday's Establishment GOP (Past)  –  RIGHT… Tomorrow's Patriotic GOP (Future)
But the key for the GOP to take the presidency in 2016 is Sarah Palin.  Sarah Palin matched with up with Ted Cruz, Rand Paul, Allen West, Ben Carson or one of several others is a clear choice of ideologies, the GOP's toughest match-up against Hillary as well as addressing what will be the Dem's carrot of electing the first female U.S. President.

Also
Love and Prayer are the Best Medicines!
And Best Anti-Depressants!
Great Pet Books: The Rainbow Bridge: A Visit to Pet Paradise and All Creatures Great and Small
In a disarmed society, the streets are ruled by the physically strongest and morally weakest individuals. – Will Spencer
Book(s) of the Week – Not Cool: The Hipster Elite and Their War on You followby Greg Gutfeld host of Redeye and co-host of the Five on Fox Cable News. 
Behind every awful, dangerous decision lurks one evil beast: the Cool.  
Video: 'Not Cool' by Greg Gutfeld
From politics to the personal, from fashion to food, from the campus to the locker room, the desire to be cool has infected  all aspects of our lives. At its most harmless, it is annoying. At its worst, it is deadly, on a massive scale.  The Cool are the termites of life, infiltrating every nook and cranny and destroying it from within. The Cool report the news, write the scripts, teach our children, run our government—and each day they pass judgment on those who don't worship at the altar of their coolness.  The cool fawn over terrorists, mock the military, and denigrate employers. They are, in short, awful people.
From what we wear and what we eat, to what we smoke and who we poke, pop culture is crafted and manipulated by the cool and, to Greg Gutfeld, that's Not Cool.
How do the cool enslave you? By convincing you that:
– If you don't agree with them no one will like you.
– If you don't follow them you will miss out on life.
– If you don't listen to them you will die a lonely loser
How do you vanquish the cool and discover your own true self? Read this book.
In Not Cool, Greg Gutfeld, bestselling author of The Joy Of Hate and The Bible of Unspeakable Truths, lays out the battle plan for reclaiming the real American ideal of cool–building businesses, protecting freedom at home and abroad, taking responsibility for your actions, and leaving other people alone to live as they damn well please.  Not Cool fights back against the culture of phonies, elitists, and creeps who want your soul. It's not a book, it's a weapon—and one should be armed with it at all times.
The wolves are at the door!!
Be sure to come visit us here at Ask Marion regularly and subscribe to receive the latest posts first… as well as visit: Just One More Pet, True Health Is True Wealth!!, Knowledge Is Power, the Daily Thought Pad and Palin-Cruz 2016
And Join in on Twitter at @AskMarion  @JustOneMorePet and @PalinCruz_2016  –  #PalinCruz2016
Join the Movement… Palin-Cruz 2016 – @PalinCruz_2016 – #PalinCruz2016