By Marion Algier – Ask Marion
Robert Gates, former defense secretary, offered harsh critique of Obama's leadership in 'Duty' and his commitment to the Afghanistan war, in h
is new memoir. Gates writes that by early 2010 he had concluded the president "doesn't believe in his own strategy, and doesn't consider the war to be his. For him, it's all about getting out."
One of the more serious charges that a defense secretary could make against a commander in chief was sending forces into combat, when Obama had more than doubts about the course he had charted in Afghanistan. The president was "skeptical if not outright convinced it would fail," Gates writes in "Duty: Memoirs of a Secretary at War (Kindle)".
Obama, after months of contentious discussion with Gates and other top advisers, deployed 30,000 more troops in a final push to stabilize Afghanistan before a phased withdrawal beginning in mid-2011. "I never doubted Obama's support for the troops, only his support for their mission," Gates writes.

As a candidate, Obama had made plain his opposition to the 2003 Iraq invasion while embracing the Afghanistan war as a necessary response to the 2001 terrorist attacks on the United States, requiring even more military resources to succeed. In his highly emotional account, Gates says Obama remains uncomfortable with the inherited wars and distrustful of the military that is providing him options. Their different worldviews produced a rift that, at least for Gates, became personally wounding and impossible to repair.

And this past week we are seeing evidence of Obama's failed Iraq policies: Iraq…is it really over for America

"Duty: Memoirs of a Secretary at War (Kindle)" portrays Gate's disappointment in Obama, but it reflects outright contempt for Vice President Biden and many of Obama's top aides. He accuses Biden of "poisoning the well" against the military leadership.

Gates has worked for every president beginning with Richard Nixon, with the exception of Bill Clinton. Gates was known for his bipartisan detachment throughout his government career; the consummate team player. "Duty First" was always Gates' motto, but Obama holding a Republican over to fill such a key Cabinet post was questioned.

Gates writes, "I have tried to be fair in describing actions and motivations of others." He seems well aware that Obama and his aides will not see it that way.

While serving as defense secretary, Gates gave Obama high marks, saying privately in the summer of 2010 that the president is "very thoughtful and analytical, but he is also quite decisive." He added, "I think we have a similar approach to dealing with national security issues."

Obama echoed Gates' comments in a July 10, 2010 interview for Bob Woodward's book "Obama's Wars (Kindle)." Obama said: "Bob Gates has, I think, served me extraordinarily well. And part of the reason is, you know, I'm not sure if he considers this an insult or a compliment, but he and I actually think a lot alike, in broad terms."
The White House continued to defend President Barack Obama's leadership style and affirm his relationship with Vice President Joe Biden on Wednesday in the face of the accusations by Obama's former defense secretary. White House spokesman Jay Carney told reporters, who peppered him with questions about the memoir by former Pentagon chief Robert Gates. "The fact that there were some debates in the prolonged policy review over Afghanistan is hardly news", Carney said.
Video: Foreign Policy Flubs – Gates: Biden Wrong For 4 Decades – Coulter on Fox & Friends
Video: Robert Gates Criticizes WH Leadership – Allen West – Megyn Kelly – Kelly File – 1-7-14
Video: Military Leadership? – Robert Gates' Book Questions How Obama Runs The Military – LtCol Ralph Peters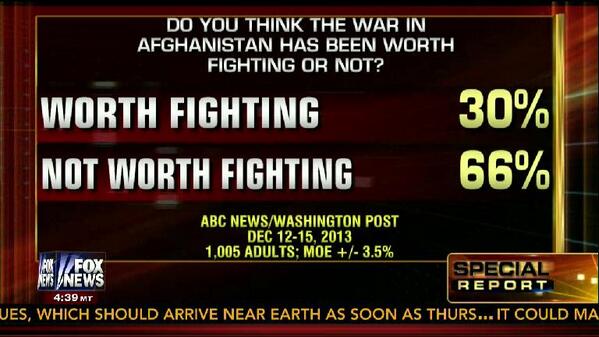 Recent Fox Poll
A recurring pattern in Obamaland… no matter what the scandal, bad news, or problem for the Administration, when they are losing or are embarrassed they masterfully create another scandal or diversion, generally against the Republicans, to take all eyes and the discussion off of them. It is the Obama administration's 'tell'. It is also part of their manipulation program in which they are aided by the mainstream media (MSM), and far too often the independent and alternative media folk get pulled in as well, because the created diversions often grow so big that they can't be ignored.
And here we go again… Masterfully out of nowhere appears the Christ Christie bridge lane closing controversy and with it comes all the discussion about whether this will take Christie out of 2016 Presidential contention, which in turn helps the Democrat Progressive choice, Hillary Clinton. I generally like Chris Christie, but he is not the guy that I would choose or that the Republicans should choose for their candidate in 2016, but that being said… my first reaction to the timing of this bridge controversy was, "Really? How convenient… Here we go again!"
And I see I wasn't alone…
Rush Limbaugh slammed the media on Wednesday for its coverage of New Jersey Gov. Chris Christie, saying "The focus on the bridge controversy only serves to take former defense secretary Robert Gates' critique of President Barack Obama "off the front page."
The conservative radio host told his listeners that "the left right now is very excited" over Wednesday's report tying the Republican governor's staff to the closing of several lanes of traffic in Fort Lee, N.J. And with the attention turned to that scandal, the media can conveniently ignore Gates' pointed assessment of the president's handling of the war in Afghanistan, Limbaugh said.
"The left right now is very excited over what we just learned about Governor Christie, because what we've just learned about Governor Christie is helping to take the Gates thing off the front page," Limbaugh said, according to a transcript.
"The point is the media has just glommed onto that like bees in a honeycomb so that they don't have to talk about the Gates book," he added.
"Time for some traffic problems in Fort Lee," Christie senior staffer Bridget Kelly wrote to Port Authority official and Christie ally David Wildstein in an Aug. 13, 2013 email, according to The Record, suggesting the closures were retaliation against the local mayor for not supporting the governor's reelection.
What should be the bigger story, Limbaugh told his listeners, is Gates' critique of Obama. Gates wrote in his memoir, "Duty: Memoirs of a Secretary at War (Kindle)" that by early 2010 he believed the president "doesn't believe in his own strategy, and doesn't consider the war to be his. For him, it's all about getting out," according to a preview in The Washington Post. The former defense secretary also added that "I never doubted Obama's support for the troops, only his support for their mission."
Limbaugh said Gates' assessment didn't surprise him, but noted "it is clear that Bob Gates knew a bunch of stuff that he held in reserve for a book long after the release of any information would have any impact on anything."
"Can you imagine if the people of this country had been told that Obama's opposition to Iraq was purely political?" he said.
Still, "we all knew this," Limbaugh said, since "everything the liberal Democrats do is political,"
"This is my point and I think it'd be really helpful if a whole bunch more Americans knew that," he said, according to a transcript. "You know, Obama and Hillary get away with supposedly having principled opposition to the war in Iraq, and there was nothing principled about it; it was all political."
"Then we find out he's not even committed to it," Limbaugh added. "We find out that his involvement in Afghanistan is perfunctory at best. But, you know, the real problem with that is, there are real men and women that he's sending into harm's way in something he doesn't believe in. Nobody, by the way, is saying what Gates said isn't true. The left is going through pretzeled conniption fits trying to react to that."
Related:
NBC's Chuck Todd Calls Out Carney Over Biden Explanation
Louie Gohmert: Let's Blow Up All Iran Nuclear Sites
Sean Hannity Reacts to WFB Story on Al-Qaeda Being Invited to Briefing on Drone Policy By Congressional Democrats
Election 2014 and 2016… All Sewn-Up or the Battle(s) for Americas Life
Thousands of pages of Chris Christie bridge scandal documents released