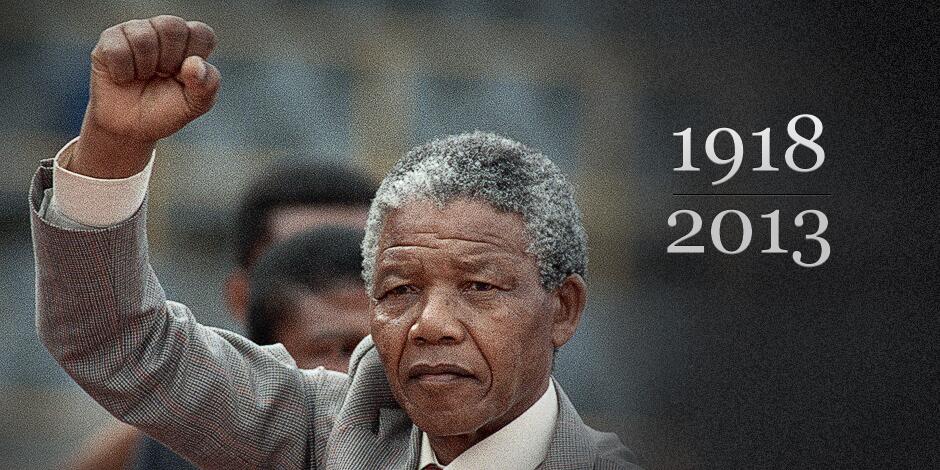 By Marion Algier – Ask Marion
Nelson Mandela was one of the bigger than life leaders of our time. Was he perfect… absolutely not; in fact, far from it. And when you start digging you can find many flaws as well as connections with Communists and Socialists and that ideology. But when you look at his life in total and his ability to forgive as well as pulling a country filled with hate together, at lease a large step in that direction compared to where they were, I figure he deserves some respect at the moment of his death. Leadership, especially in the third world is complicated and Mandela leaves a very mixed legacy!
Mandela died, or as they say in South Africa, transitioned today, at age 96, of a lung infection connected to the tuberculosis he contracted while serving 27 years as a political prisoner. All South Africans most people around the world are affected by his passing the loss. Mandela was a larger than life figure that inspired a nation… inspired the world. His adherence to his goals and principals and his extraordinary decision to embrace and forgive his former oppressors makes him an unparalleled example.
"If you want to make peace with your enemy you have to work with your enemy. Then he becomes your partner," he wrote in his autobiography, Long Walk to Freedom: The Autobiography of Nelson Mandela (Audio/Kindle) that was published four years after his release from prison in 1990. Following his jail term, with the racist and violent apartheid system crumbling under pressure from the world, Mandela embraced President F.W. de Klerk and then served alongside him in a transitional coalition of national unity. The two men deservingly both won the Nobel Peace Prize in 1993.
One of Mandela's other great achievements: Instead of prosecuting the crimes of many apartheid-era commanders and enforcers, in 1995 he agreed to set up the Truth and Reconciliation Commission, where victims of racist violence and torture could tell their stories and perpetrators told theirs. The commission granted violent former government officials and employees amnesty in exchange for their honesty about what they did. Though that was controversial and upset some, in the end the process was also hailed as a triumph of mercy and a meaningful step toward healing the country's deepest wounds.
Mandela was born in 1918, in a rural village in the Cape Province. Apartheid had not yet been completely enshrined as South African law, but a system of strict racial segregation was already in place. Mandela's given name, Rolihlahla turned out to be more than appropriate in the eyes of those in power; in the Khosa language it means "troublemaker."
AP Photo/David Brauchli/AP Photo/David Brauchli
His father died when he was nine years old, and a Thembu chief raised him. When he was 23, young Nelson left, running away from a marriage the chief had arranged for him in the Transkei. He moved to Johannesburg where he studied law as one of a handful of black students at Witwatersrand University. That same year he joined the African National Congress, and later he co-founded the ANC's youth league together with Oliver Tambo and Walter Sisulu. In 1944, three years after he left home, he married his first wife, Evelyn Mase with whom he had four children.
In 1948 the National Party came to power and started passing a series of laws enforcing racial segregation, ultimately known as apartheid. Four years later, Mandela opened the country's first black law office with Tambo, representing defendants who were oppressed by the system. In 1955 he banded together with South Africans of Indian descent, mixed race South Africans, and trade union representatives to draft the Freedom Charter, calling for the creation of a democratic, non-racial state with the nationalization of major corporations.
The government first prosecuted Mandela in 1956 when it charged him and 155 other activists with treason. After a four-year trial, the authorities dropped the case. In 1958 he divorced his first wife and married social worker Winnie Madikizela. Two years later the government outlawed the ANC and Mandela went underground as the apartheid regime became more and more oppressive. That same year police massacred 69 protesters in the Johannesburg township of Sharpeville. Though he had initially committed to non-violent protest, in 1961 he co-founded Umkhonto we Sizwe (the Spear of the Nation, also known as MK), a group that waged a bombing campaign against government targets.
In 1964 the government again put Mandela on trial. Facing a death sentence, he made a famous, four-hour-long speech that concluded with these moving words that underlined his commitment to non-racialism:
During my lifetime I have dedicated myself to this struggle of the African people. I have fought against white domination, and I have fought against black domination. I have cherished the ideal of a democratic and free society in which all persons live together in harmony and with equal opportunities. It is an ideal which I hope to live for and to achieve. But if needs be, it is an ideal for which I am prepared to die.
He and eight others were convicted of conspiracy, sabotage and treason and sentenced to life in prison. He spent much of it in a tiny cell on Robben Island, a barren, windswept expanse in shark-infested Table Bay, four miles from Cape Town, where he worked in a rock quarry and secretly wrote his memoir, which he hid from guards inside tin cans buried in the prison vegetable patch.
By the 1980s, anti-apartheid activists were publicizing Mandela's name as the imprisoned leader of the struggle against apartheid and the slogan "Free Nelson Mandela" gained popularity around the world. Inside South Africa the police and military killed and tortured thousands who continued to protest apartheid. Finally, after years of international ridicule and the tightening of economic sanctions that had begun in 1967, on Feb. 2, 1990, de Klerk lifted the ban on the A.N.C. Nine days later Mandela walked free from prison. He delivered these timeless lines at Cape Town City Hall on Feb. 11, 1990:
Friends, comrades and fellow South Africans, I greet you all in the name of peace, democracy and freedom for all. I stand here before you not as a prophet but as a humble servant of you, the people. Your tireless and heroic sacrifices have made it possible for me to be here today. I therefore place the remaining years of my life in your hands.
South Africa held their first all-race democratic election in 1994 and they overwhelmingly chose Mandela. He immediately faced huge problems, including rampant poverty, high unemployment, a vastly unequal education system, rising crime and a call by many South Africans to nationalize businesses and return land to the original black owners. Instead he negotiated a series of compromises that remain controversial. Most multinational corporations stayed, and some black South Africans have amassed significant wealth, but the majority of the population still lives in poverty and confronts one of the highest crime rates in the world and an AIDS crisis, with more than 10% of the population living with the HIV virus.
Mandela, whose son Makgatho died of AIDS in 2005, became a leading spokesman for AIDs prevention and treatment in South Africa, where many people in the black community have seen the illness as taboo. Mandela spoke out publically after his son died: "Let us give publicity to HIV/AIDS and not hide it, because the only way to make it appear like a normal illness like TB, like cancer, is always to come out and say somebody has died because of HIV/AIDS, and people will stop regarding it as something extraordinary." Mandela pushed for people with HIV to be given anti-retroviral drugs in South Africa, and spearheaded a campaign to declare a global AIDS emergency, insisting that fighting AIDS was a human rights issue.
Another of Mandela's many accomplishments was memorialized in the movie Invictus [Blu-ray], a must see if you haven't. In 1995, when South Africa hosted the Rugby World Cup, he encouraged all South Africans to support the national team, the Springboks, who had previously been a symbol of white exclusion.
"Lead from the back — and let others believe they are in front.". Mandela did not need or seek the credit…
Mandela divorced his controversial wife Winnie in 1996 and then in 1998, on his 80th birthday. He then married Graca Machel, the widow of Mozambican president Samora Machel.
After stepping down from the presidency in 1999, Mandela intended to go into retirement but wound up founding the Nelson Mandela Foundation. The Foundation devotes much of its resources to AIDS activism and becoming vocal on international affairs, speaking out against the war in Iraq. Finally in 2004, at age 84 due to his failing health, he stepped back from public life, saying, "Don't call me, I will call you," although he kept some involvement in international affairs, urging Zimbabwean President Robert Mugabe to resign over his many human rights abuses. He also successfully campaigned for South Africa to host the 2010 FIFA World Cup. Though he kept a low profile during the tournament, he made a rare public appearance during the closing ceremony.
Mandela has been an inspiration to millions of people around the world for the strength of character he showed standing up to one of the world's most brutal regimes, but even more so it was his enduring power to accept and forgive his former oppressors. President Obama is one who says Mandela inspired him. So much so it seems that Obama wrote an introduction to Mandela's 2010 book, Conversations with Myself (Kindle). Obama Describes the early impact Mandela had on his own life saying, "His sacrifice was so great that it called upon people everywhere to do what they could on behalf of human progress. In the most modest of ways, I was one of those people who tried to answer his call." And Mandela was certainly in line with Progressive or Socialistic thought, as is his!
Mandela was not one of the Giants whose whole life meets a standard of perfection like Lincoln, Reagan, Thatcher, Pope John Paul II, MLK, Billy Graham… but he was one of those leaders who appeared or was given to mankind throughout the ages to bring about great change at a given time, when change were needed. But many of Mandela's choices outside of that were questionable and even startling (Revelations of the true Mandela since his death has made many… including me, take another serious look at both his life and his ultimate legacy), but out of respect, a subject for another day!
Our daughter, Summer, was lucky enough to meet, take classes from and actually spend some time with Archbishop Desmond TuTu as she sailed from Brazil to South Africa while with Semester at Sea as part of her college career. The experience of meeting Desmond TuTu, who painted vivid pictures of both his country and Nelson Mandela as he spoke, was one of the highlights of her sail but the reality of life in South Africa after she and her shipmates arrived there was not quite what TuTu had presented!
Nelson Mandela's 8 Lessons of Leadership
Courage is not the absence of fear — it's inspiring others to move beyond it…
"I can't pretend that I'm brave and that I can beat the whole world." But as a leader, you cannot let people know. "You must put up a front." He knew that he was a model for others, and that gave him the strength to triumph over his own fear. … Nelson Mandela
Lead from the front — but don't leave your base behind
For Mandela, refusing to negotiate was about tactics, not principles. Throughout his life, he has always made that distinction. His unwavering principle — the overthrow of apartheid and the achievement of one man, one vote — was immutable, but almost anything that helped him get to that goal he regarded as a tactic. He is the most pragmatic of idealists.
Lead from the back — and let others believe they are in front
Mandela loved to reminisce about his boyhood and his lazy afternoons herding cattle. "You know," he would say, "you can only lead them from behind." He would then raise his eyebrows to make sure I got the analogy. The trick of leadership is allowing yourself to be led too. "It is wise," he said, "to persuade people to do things and make them think it was their own idea."
Know your enemy — and learn about his favorite sport
As far back as the 1960s, Mandela began studying Afrikaans, the language of the white South Africans who created apartheid. His comrades in the ANC teased him about it, but he wanted to understand the Afrikaner's worldview; he knew that one day he would be fighting them or negotiating with them, and either way, his destiny was tied to theirs. He even brushed up on his knowledge of rugby, the Afrikaners' beloved sport, so he would be able to compare notes on teams and players.
Keep your friends close — and your rivals even closer
Mandela is a man of invincible charm — and he has often used that charm to even greater effect on his rivals than on his allies. He cherished loyalty, but he was never obsessed by it. After all, he used to say, "people act in their own interest." It was simply a fact of human nature, not a flaw or a defect. The flip side of being an optimist — and he is one — is trusting people too much. But Mandela recognized that the way to deal with those he didn't trust was to neutralize them with charm.
Appearances matter — and remember to smile
When Mandela was running for the presidency in 1994, he knew that symbols mattered as much as substance. He was never a great public speaker, and people often tuned out what he was saying after the first few minutes. But more important was that dazzling, beatific, all-inclusive smile. For white South Africans, the smile symbolized Mandela's lack of bitterness and suggested that he was sympathetic to them. To black voters, it said, I am the happy warrior, and we will triumph.
Nothing is black or white
Mandela is comfortable with contradiction. As a politician, he was a pragmatist who saw the world as infinitely nuanced. Every problem has many causes. Mandela's calculus was always, What is the end that I seek, and what is the most practical way to get there?
Quitting is leading too
Knowing how to abandon a failed idea, task or relationship is often the most difficult kind of decision a leader has to make. He knows that leaders lead as much by what they choose not to do as what they do.
Are the prospects for their lives better because of Nelson Mandela… Probably. Was it enough or what most people thought… Probably not!
Video: Limbaugh Admires Mandela's Lack Of 'Resentment'
Video: RUSH: Obama Makes Mandela's Death All About Obama
RUSH: Now, ladies and gentlemen, you can't escape the media and what's going on here, and it's all very predictable. If you just landed from Mars and turned on the TV, you may be confused over who was Barack Obama and who was Nelson Mandela, based on the way it's being covered. Well, I'm just telling you. The Washington press corps and even the White House are moving here at full speed to associate Barack Obama with Nelson Mandela. Here, grab number three. This just gives you a taste of it here. This is Scott Pelley on the CBS Evening News last night reporting on the death of Nelson Mandela.
PELLEY: Nelson Mandela kept in his office a photograph of himself with another trail-blazing president: The first black president of the United States, Barack Obama. The photograph was taken when Mandela visited Washington in 2005, and Mr. Obama was then a brand-new United States senator from Illinois.
RUSH: Now, forgive me, but if you are a low-information voter and you're watching the CBS Evening News last night, you would come away with the impression that the important thing about Nelson Mandela's death was that he had looked up Barack Obama when he came to town and had a picture of Obama when he died. Classic, folks. Absolutely classic — and the rest of the media, it's so predictable.