CNN Breaking News @ 14:06 EDST, from Egypt  -   – Yep on the anniversary of 9/11, 2012
Angry protesters climbed the walls of the U.S. Embassy in Cairo today and hauled down its U.S. flags, replacing them with black flags with Islamic emblems.
The incident prompted U.S. security guards to fire off a volley of warning shots as a large crowd gathered outside, apparently upset about the production of a Dutch film thought to insult the prophet Mohammed, said CNN producer Mohammed Fahmy, who was on the scene.
An Embassy operator told CNN that the facility had been cleared of diplomatic personnel earlier in the day, ahead of the apparent threat, while Egyptian riot police were called to help secure the Embassy walls.
One CNN Center Atlanta, GA 30303 (c) & (r) 2012 Cable News Network
America apologizes to Egypt… Then Obama says the apology was a mistake.
Earlier in the day… Obama refuses to meet with Bibi Netanyahu and refuses to set down red lines for Iran.  Later it is reported that Obama will on Letterman the same say he said he wouldn't be in NYC to meet with Netanyahu.
Prime Minister Netanyahu: Those in the international community who refuse to set a red line for Iran have no moral right to set one for Israel:  "I have had enough those who do not set a red line for Iran on their nuclear program have no right to set a red light on Israel!"
Obama Announces Letterman Appearance on Day He Snubbed Netanyahu
Muslim Brotherhood Blames America For Not Protecting Islam After Mob Attacks U.S. Embassy
Krauthammer on Obama's apology to Egypt today: "it was a hostage statement and we should have told them to go to hell.."  See Video
In place of the U.S. flag, the protesters tried to raise a black flag with the words "There is no God but God, and Mohammad is his messenger", a Reuters witness said.
American Embassy worker in Libya was stripped bare and then burnt alive by Salafis in Benghazi on September 11 2012  -  Wake-up America/Christians/Jews  -  U.S. Embassies are American soil.  These animals have now attacked us on our own soil.  Four more years of Obama and this will be happening in America proper.
See Anti-Muhammed Movie that Sparked Deadly Islamist Protests in Egypt and Libya Here and Read More Here:
Updated: 09/12/12: – 24+ hours later after 4 people were killed, including our Ambassador and the U.S. Libyan Embassy was burned down, President Obama finally speaks out against the atrocities and attack on America (Remember yesterday… We apologized to the mob in Egypt): Libya attack: "Obama vows justice for killing U.S. Envoy" But as far we know… Obama still won't meet with Prime Minister of Israel, red line Iran but plans to appear on Letterman.
And look who is silent about Deaths of Americans and attacks on American soil: Neither U.N. Secretary or the U.N. Security council have made any comments about the attacks on the U.S. Embassy… another wake-up America call!!  Read more HERE
  Tuesday:  PICKET: U.S. Embassy in Cairo tweets – 'Islam is a wonderful religion'  -  Really?
In other developments on Wednesday:
Nigeria placed its police force on red alert to guard against attacks related to the controversial film
The US embassy in Algiers warned Americans in Algeria to avoid non-essential travel amid social media calls for protests
Tunisian police fired tear gas and rubber bullets into the air to disperse a protest by several hundred people near the US embassy in the Tunisian capital, Tunis
Demonstrations were reported outside the US embassy in Khartoum, Sudan, and the US consulate in Casablanca, Morocco, as well as outside UN offices in Gaza
The Afghan government ordered a block on YouTube until the offending film was removed – but the site was still visible to internet users in Kabul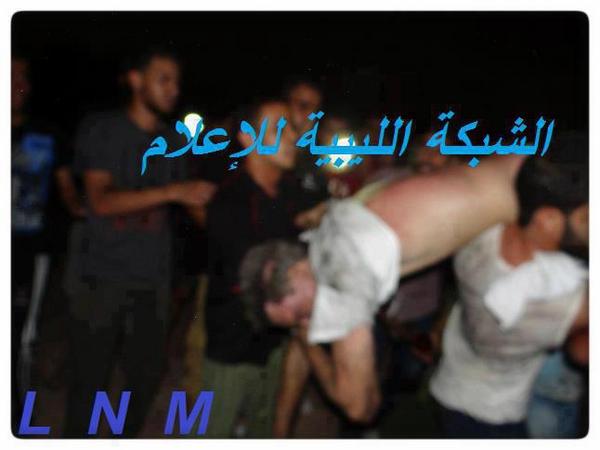 ISLAMISTS DRAG DEAD BODY OF US AMBASSADOR THROUGH THE STREETS! | The Gateway Pundit
Islamists dragged the dead body of US Ambassador Christopher Stevens from the embassy after he was murdered last night.
The radical Islamists attacked the embassy with rocket propelled grenades and machine gun fire.  Our Secretary of State's comments:
UPDATE: Hillary Clinton just said the "protesters" dragged his body to the hospital.
It sure looks like a strange way to drag an obviously dead man to safety
UPDATE: Barack Obama also just said the Libyans were carrying the ambassador to the hospital.
UPDATE: Here is another shot from another website of the ambassador at the embassy.
Ambassador Stevens was a dedicated career diplomat. He was excited about his new role in Libya.
From Al- Ahram (translated):
As diplomatic sources in the capital Tripoli, told the Middle East News Wednesday also that U.S. diplomat who was killed is U.S. Ambassador Christopher Stevens in Libya and three other embassy staff one administrative and two security of U.S. Marines in a rocket attack U.S. consulate in Benghazi on Tuesday .
And was a Libyan official had confirmed earlier that the U.S. consul and three employees of the U.S. consulate were killed in the attack on the U.S. consulate in Benghazi on Tuesday night, and said, "He died suffocation."
It should be noted that the protesters had Hajmo the Italian consulate in Benghazi on February 17, 2006 against the backdrop of the publication of Italian media caricatures of Danish painter killed evacuated 14 young Libya Libyan security fire.
Apparently President Obama can't see Egypt and Libya from his house. On the anniversary of the worst terrorist…
Palin to Obama: Time To Grow A Big Stick
Mostly Non-Radical Egyptians Assault U.S. Embassy
BREAKING NEWS: U.S. State Department Brings U.S. Corporations To Meet Muslim Brotherhood…
Side Story… (looking back to 10.27.11):
The US State Department calls the purchase of Obama's books "standard practice," but critics call it "inappropriate."
Records show the US Embassy in Cairo, Egypt, spent more than $40,000 in 2009 on "Dreams From My Father,"
It's the biggest books shopping spree we've seen in a while.
The State Department bought more than $70,000 worth of President Barack Obama's books, The Washington Times reported Tuesday. The books, mostly Obama's 1995 bestseller, "Dreams from My Father," will be used as Christmas gratuities for embassy staff and to stock "key libraries" around the world.
Records show the US Embassy in Cairo, Egypt, spent more than $40,000 in 2009 on "Dreams," and the US Embassy in South Korea spent $6,061 on the same title, all to be used for Christmas gratuities. Obama reported between $1 million to $5 million in royalties in 2010 for "Dreams From My Father," and between $100,000 and $1 million in royalties for "The Audacity of Hope," far more than he has made as President. If he earned 10 percent royalties on roughly $60,000 worth of the State Department purchases, he would pocket about $6,000, notes The Washington Times.
Both the White House – which was not involved in the buying – and the State Department have come under intense fire for the purchases.
"It's inappropriate for U.S. taxpayer dollars to be spent on this," Leslie Paige, the spokesman for Citizens Against Government Waste, told The Washington Times. "This sounds like propaganda."
Tom Schatz, president of Citizens against Government Waste, told CNN that the purchases provide money from the taxpayers to the president in the form of royalties. "[I]n an era where everyone's trying to cut back, it really doesn't look good to the taxpayers to have this being done at the State Department."
The State Department, as expected, is defending its shopping spree.
State Department spokeswoman Victoria Nuland told CNN it is "longstanding practice" to allow embassies to buy books, "to put them out in libraries … give them to contacts, which they think will help deepen understanding of the U.S. political system, of U.S. political figures and leaders of U.S. history, U.S. culture."
The purchases, she added are "done in strict accordance with government procurement standards."
"It's the embassies themselves that make the decisions what American books to buy. And they make these decisions based on the interest in the country where they are. But these are not decisions that are made in Washington, and they're not decisions that are directed by Washington."
The White House, for it's part, is happy to wash its hands of this decision.
"Obviously, the White House didn't have anything to do with this," White House Press Secretary Jay Carney told reporters traveling aboard Air Force One on Wednesday. "I think this is an embassy-by-embassy decision based on what they think … in buying books makes sense for them in terms of advancing American foreign policy interests."
Husna Haq is a Monitor correspondent.
No doubt right now  every video of Obama and Hillary praising the Arab Spring is being scrubbed off the internet…
Wake-up America/Christians/Jews – U.S. Embassies are American soil. These animals have now attacked us on our own soil over a movie. Four more years of Obama and this will be happening in America proper.